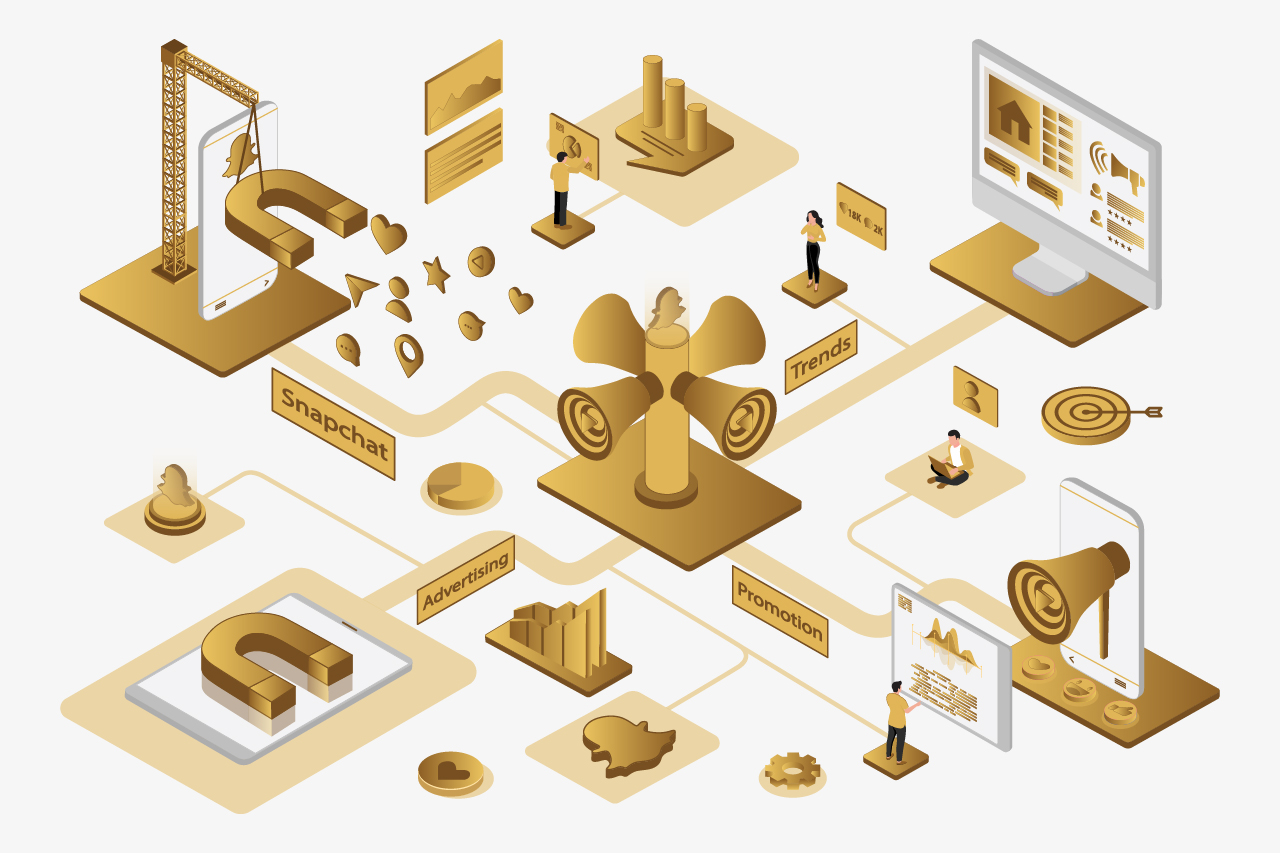 The power of social media marketing has been proven from time to time. And Snapchat is one of the most popular social media platforms today, with over 190 million daily active users. So, if you're looking for a way to expand your company in Saudi Arabia, Snapchat marketing is a great option. But what exactly is Snapchat marketing, and how can you use it to grow your business? Snapchat marketing is about creating exciting, engaging content that appeals to your target audience. And with the help of a Snapchat marketing agency, you can easily create and implement a Snapchat marketing strategy to help you reach your goals. Keep reading to learn more about 5 Snapchat marketing ideas that can help you expand your company in Saudi Arabia!
Essence Of Snapchat Social Media Marketing In Current World
Snapchat is one of the most popular social media platforms today, and it's not just for kids anymore. Businesses of all sizes are starting to use Snapchat as a way to reach their target audience. And there's a good reason for that. Snapchat offers some unique features that make it ideal for marketing.
For one, Snapchat is all about visual content. This is a critical element of today's social media landscape. People are more likely to engage with content that is visual and interesting. Snapchat also has a high level of engagement. Studies have shown that people are likelier to open and view Snaps than to open and view emails.
So if you're looking for a new way to reach your target audience, Snapchat is a great option. Just make sure you're creating quality content that is interesting and engaging.
Top 5 Snapchat Marketing Strategies
In Saudi Arabia, Snapchat has become one of the most popular social media platforms in recent years. And as a business, you can use Snapchat to reach a broad audience of potential customers.
But why Snapchat? What makes it such an effective marketing tool?
Here are a few reasons:
Snapchat is incredibly popular in Saudi Arabia, with more than 70% of social media users using the platform.
Snapchat is a highly visual platform, which makes it perfect for businesses in industries such as fashion, beauty, and travel.
Snapchat users are highly engaged, with around 70% of users opening Snaps within 10 seconds of receiving them.
Snapchat provides businesses with unique marketing opportunities, such as sponsoring Lenses and filters, creating branded geofilters, and running ads
If you're looking for creative ways to take your Snapchat marketing to the next level, look no further! Here are five Snapchat marketing ideas that will help you expand your company:
Create a Snapcode
Take advantage of Snapchat Stories
Use filters and lenses
Host a contest or giveaway
Collaborate with other businesses
Need of Snapchat Advertising Agency For Snapchat Social Media Marketing
In the current world order, it is safe to say that social media marketing has taken over. Companies are now turning to Snapchat advertising agencies to handle their social media marketing needs, as it is one of the most popular and fastest-growing platforms.
Snapchat boasts over 150 million daily active users, with 10 billion daily video views. Many potential customers that companies are missing out on if they do not have a Snapchat marketing strategy.
A Snapchat advertising agency specializing in Snapchat marketing can help a company create engaging and creative content that will reach a broad audience. Additionally, the agency can help a company track its ROI and performance metrics to ensure its Snapchat marketing campaign is successful.
TMT: A Perfect Place For Your Snapchat Social Media Marketing
Are you looking for some fun and innovative ways to market your company on Snapchat? If so, then you've come to the right place! TMT- The Marketing Trendz has Snapchat marketing ideas to help you expand your company. From creating custom filters to holding a Snapchat scavenger hunt, these ideas will help you get the most out of this popular social media platform.
Our team of professionals at our Snapchat advertising agency has the skills and experience needed to help your business grow. We can create engaging and effective ad campaigns to reach your target audience and help you achieve your business goals. Contact us today to learn more about how we can help you grow your business with Snapchat advertising.
So what are you waiting for? Get started today and see the results for yourself!
Creative Snapchat Marketing Strategies By A Professional of TMT – The Marketing Trendz
Use Snapchat to give customers a behind-the-scenes look at your company
Use Snapchat to promote exclusive deals and coupons
Use Snapchat to share exciting and informative content about your industry
Use Snapchat to run a contest or giveaway
Use Snapchat to give your followers a sneak peek of new products or services
Expectations After A Successful Snapchat Social Media Marketing Campaign
Building a successful Snapchat marketing campaign requires careful planning and a solid understanding of how the platform works. But if you put in the effort, you can expect some great results for your business.
Some of the benefits you can expect from Snapchat marketing include:
Increased brand awareness
More engaged customers
Higher sales and conversions
So if you're thinking about using Snapchat to reach your customers, know that it can be an excellent tool for growing your business.
Let's Sum It Up!
Social media marketing is truly one of the most effective marketing tools in the modern world. Over 190 million people use Snapchat daily, making it one of the most popular social media apps. Consequently, Snapchat advertising is a fantastic choice for Saudi Arabian businesses trying to grow their customer base. Have you considered using Snapchat as a marketing tool but don't know where to start? If that's the case, you've stumbled into the proper location! If you want to grow your business, TMT – The Marketing Trendz offers some great Snapchat marketing strategies to implement. Get the most out of Snapchat with these creative tips, including making your filters or hosting a scavenger hunt.