Since its inception in 2011, Snapchat has evolved from a messaging app to a powerful marketing tool with a global reach. According to a recent report, Snapchat has 218 million daily active users and is projected to grow to 333 million by the end of 2021. With its attractive features and vast audience, Snapchat is quickly becoming a go-to platform for businesses of all sizes. Therefore, Snapchat should be a crucial part of your marketing strategy if you're looking to reach a Saudi Arabian audience. In this piece of writing, we'll explore the importance of Snapchat social media marketing for businesses and give you some tips on how to get started.
Importance Of Snapchat Social Media Marketing For Businesses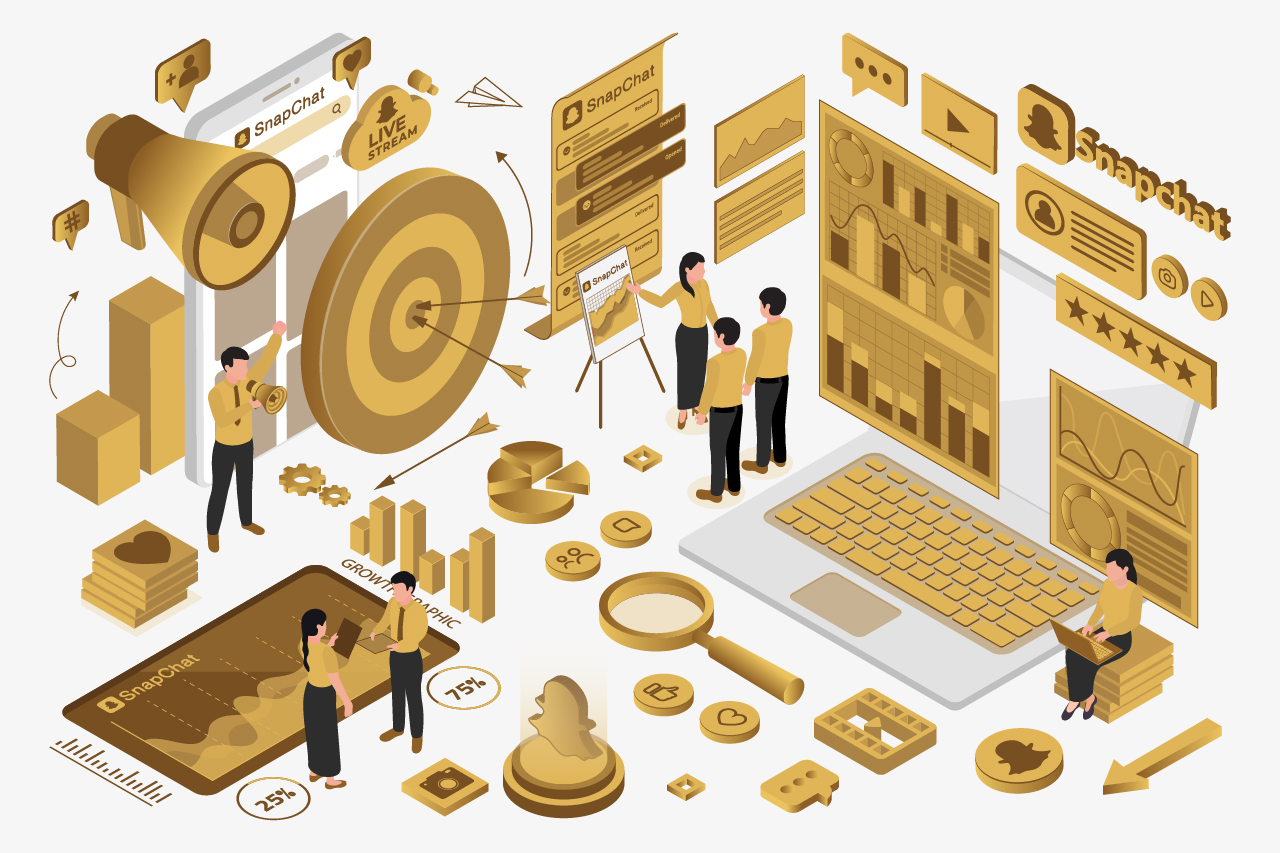 More and more businesses are turning to Snapchat social media marketing as a way to reach their target audiences. And it's no wonder – with over 160 million daily active users, Snapchat is one of the most popular social media platforms out there. But many businesses don't realize that Snapchat can also be a powerful tool for driving sales.
Yes, you can use Snapchat social media marketing to sell products and services! Here's how:
Use Snapchat marketing to create fun and engaging content that promotes your products or services.
Use Snapchat filters and lenses to make your content more visually appealing. You or the professionals of the Snapchat advertising agency can add engaging content. Quality of content is essential as it will make the first impression of your product or services.
Use Snapchat's Geofilters to target your content to a specific location. If you need help identifying your target audience or managing your Snapchat account, you can consult a professional Snapchat advertising agency like The Marketing Trendz – TMT. The professionals at TMT are seasoned and experienced in Snapchat marketing. They can assist you in forming your Snapchat marketing strategy and managing your social media accounts.
If you're looking for a new way to boost sales, consider using Snapchat marketing. You can attract potential clients with its large user base and unique features.
Perfect Snapchat Marketing Strategy Can Drive Sales
Are you looking for the perfect Snapchat marketing strategy that will help drive sales for your business? Then look no further!
First, you'll need to ensure your Snapchat account is set up correctly. This means adding a clear and concise bio that tells people who you are and what you do. You should also add a profile picture and link to your website.
Next, you'll need to start creating engaging content. This means creating interesting, informative, and/or entertaining snaps. You can also use Snapchat's filters and lenses to add some fun and flair to your snaps.
Finally, you'll need to promote your Snapchat account. You can do this by adding your Snapchat code to your website and social media profiles.
By following these steps, you can form an ideal Snapchat marketing strategy for your business.
Snapchat Marketing Via Snapchat Advertising Agency
Snapchat has been one of the hottest social media platforms over the past year, and it's only getting bigger. However, if you're not using Snapchat for your business yet, you're missing out on a huge opportunity to reach your target audience.
We understand that you have to focus on producing your products or managing services. So that's where Snapchat advertising agencies like TMT come in. With the help of a professional Snapchat advertising agency, you can rest assured that your content will be visually appealing and your profile will be optimized. Further, regular postings will be guaranteed.
Scope Of SnapChat Marketing in Saudi Arabia and All over the Middle East
Social media use has increased dramatically in Saudi Arabia in the last five years. Of all the social media platforms, Snapchat has emerged as one of the most popular, with over 85% of social media users in Saudi Arabia using the platform.
This popularity presents a massive opportunity for businesses looking to reach Saudi Arabian consumers. Snapchat marketing can be highly effective in achieving this target audience, but it's essential to understand the platform and how best to use it for your business.
For that reason, businesses in Saudi Arabia need the professionals of Snapchat advertising agencies that can form the perfect Snapchat marketing strategies.
The Marketing Trendz – TMT: Your Preferred Snapchat Advertising Agency in the Middle East
The Marketing Trendz is the preferred Snapchat Advertising Agency in the Middle East. We are experts in Snapchat Advertising and have a proven track record in delivering results for our clients.
If you are looking for a social media marketing agency to help you with your Snapchat Advertising, look no further than The Marketing Trendz. We will work with you to create a campaign tailored to your specific needs and objectives and ensure that your campaign is a success.
Contact us today to learn more about our Snapchat Advertising services and how we can help you achieve your marketing goals.
Wrapping Up!
The use of Snapchat in conjunction with social media marketing is becoming an increasingly common method for businesses to communicate with their target audiences. Snapchat is one of the most popular forms of social media in use right now, given that it has more than 160 million daily active users. Despite this, many businesses fail to see Snapchat's potential as a source of monetization. Snapchat has quickly become one of the most popular social media sites over the course of the past year, and this trend is only set to continue in the foreseeable future. If you are not currently utilizing Snapchat for your company, you are passing up a significant opportunity to engage with the people who would be the best fit for your brand. We acknowledge that you probably have a lot going on with the creation of things or the operation of services. Here is where advertising agencies like TMT, focusing specifically on marketing through Snapchat, come into play. You have my assurance that an experienced Snapchat advertising company will work to optimize both the content of your profile and your profile itself. In addition to this, regular updates are going to be guaranteed. The Marketing Trendz is widely regarded as the preeminent Snapchat advertising firm in the Middle East. They have well-versed employees in advertising on Snapchat, and their clients have a track record of success when working with them.