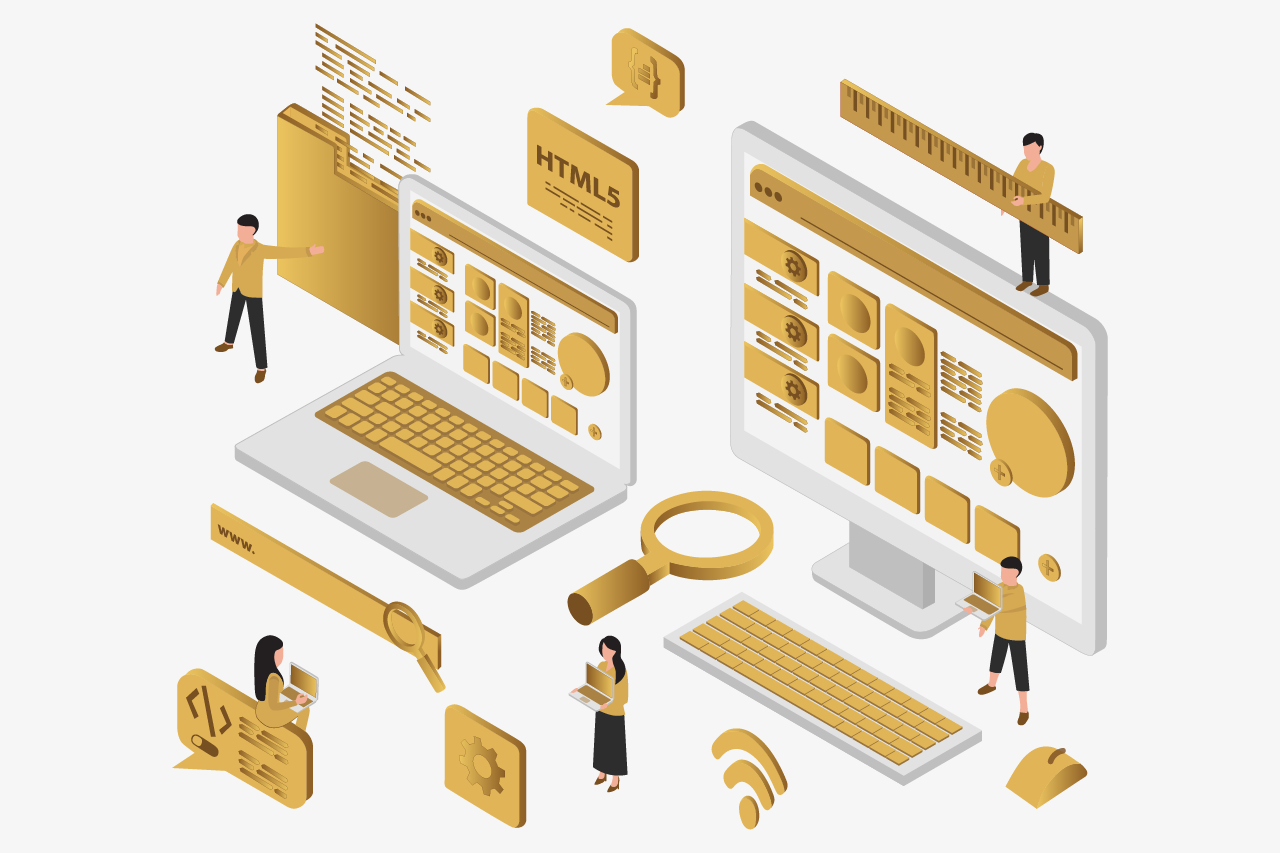 Having a website is a vital necessity in today's technologically advanced world. As we move into the future, the digital world will keep on expanding. More and more people are now switching towards the digital world because they're seeing the results. Business owners globally are now seeking website development services to get the best possible website. The same is the case with the GCC region. Countries like Saudi Arabia and UAE are now competing with international markets in terms of website development and web designing. This trend is quite common within the entire Middle Eastern region. Countries such as Qatar, Bahrain, and Kuwait are also not holding back when it comes to website development and web designing services. The same can be said for Oman and Turkey host several websites designing companies.
Many of these companies provide average to low website development services but some of them are truly game-changing. One such game-changing website development company is The Marketing Trendz (TMT). TMT has its offices in Riyadh, Jeddah, and Dammam. Not only do they provide the best website development and web designing services, but they also offer complete marketing solutions. They've been operational in KSA for more than a decade and have helped countless Arab businesses get a strong digital presence. If you need quick, efficient, and dynamic website development and web designing, you should give The Marketing Trendz a shot. With their years of experience, exceptional team, and data-driven approach, they offer far more than the traditional website development service. However, if you plan to choose any other web designing company, there are a few things in mind.
Keep reading on and learn what you can expect from your website development company and how you can create an attractive website.
First things first, let's understand the things that can be expected from a website development company when you reach out for website development or web designing services.
The following is a list of things that can be expected from a website development company:
Detailed Questionnaires
The start of a fruitful relationship is based on the information exchanged. In the digital world, this exchange of information occurs through detailed questionnaires. Web development companies that care about your needs often send a questionnaire to get started with your project. The information required will differ from project to project but all of it is important. You should carefully fill out the questionnaire, as this questionnaire will become the basis for understanding your project requirements. Better clarity means better understanding, so take the time to be as clear and concise as you wish to be. Any good questionnaire should cover these (or a variation of these) questions:
Your vision for the website
Specific site pages you'd like to be developed
Any additional website functionality that may prove essential
Information about your products and/or services
Basic company profile information so the right information is displayed on the website
Defining calls-to-action (CTA) or what will action you'd want the user to take when they land on your website
Questions about your current customer relationship management (CRM) system or email marketing systems, if any
What plans do you have for any other tasks involved such as content creation, logo or other additional graphic design, domain email setup, hosting, etc…
What would be your marketing goals
Who will be responsible for the maintenance and upgrades
Your social profiles for integration
Keywords research with the implementation of search engine optimization (SEO)
Any additional project information that will be helpful
Communication is Paramount
Web development or designing is a collaborative approach; you rely on the web development company for the deliverables, while they rely on you for approvals. Effective communication will help you avoid misunderstandings and increased development costs. Decide how you would keep in touch with the development team and stay in the loop. Developers will need approvals for wireframes and prototypes. Make sure you keep a tab on the progress and share your input where you deem it necessary. From sitemap to the designing aspect, make sure you always know what is happening. Additionally, ask for changes as soon as you find something off. Don't wait; this will only cause further delays. Instead, speak to the team and get the changes you want without losing your precious time.
Understand the Development Lingo
This is something that a lot of people struggle with. The development and digital lingo can be perplexing and quite intimidating, especially if you're a novice. There's no need to shy away from digital terms. Here's a list of commonly used web development and digital terms that can confuse people:
Pay-Per-Click (PPC): PPC campaigns include ad campaigns such as Google Ads and Facebook Ads.
Search Engine Optimization (SEO): SEO is a general term applied to on-page, off-page, and technical efforts made to boost visibility through search results.
On-Page Search Engine Optimization (SEO): On-page optimization refers to the practices done to improve search engine visibility made within your website pages.
Off-Page Search Engine Optimization (SEO): Off-page optimization refers to the practices done to build authority and increase visibility through link building and guest posting.
Title Tag: It is a brief tag that's visible in the search results with your website title.
Meta Description: It is a brief description that informs users what your page is about.
Sitemap: A blueprint of your website. It's a representation of all the pages your site will have with page names hyperlinked to individual pages.
Heading Tags: Header tags – These tags help sort and break up your web content for better readability.
Analytics: Information pertaining to website visitors, traffic sources, how long visitors remained on a particular page, and all other important measurable data.
Hosting: A hosting company is a company that provides you hosting while hosting includes important features such as bandwidth, storage, and more.
Content Management System (CMS): The software implemented to help manage website, a noteworthy example is WordPress
Customer Relationship Management (CRM) System: The software implemented to help manage, track, and even elevate the customer experience from start to finish.
Email Autoresponder: An automated email system that streamlines email communication. It even allows automatic replies to email communications received from potential customers/clients.
Pre-discussed Milestones
Web development or web designing doesn't just happen without proper planning and deliverance schedule. Milestones are different points within the development phase that allow you to track and monitor progress. Milestones are discussed at the start of the development phase and they serve as the building blocks for all developmental tasks. Milestones comprise the payment schedule and development schedule. They allow you to obtain a timeline for each development phase, so you know exactly where you stand.
The Scope of the Project
The scope of the project includes the project management process. The project management process is the process that highlights how your project will be handled and who will be handling it. This process is customer-specific and any good website development company in KSA or the GCC region will tailor the process as per your needs. It is important to remember that the project management process should offer you better control. The outcome of the process should be website development or web designing that matches your expectations.
Tools, Automation, and Working Methodology
This is a crucial part that should never be overlooked, as it sets the tone of what will be delivered to you. The software, tools, automation, and working methodologies that are used on your project will directly affect the kind of usability and performance of your site. Please note that no one solution works for all. Every project comes with its challenges and requires a unique approach. There is no industry-specific software or a collection of best tools and automation. Similarly, there are no industry-standard working methodologies. All these things are reliant on the complexities and the requirements of your project. They will differ from one website designing company to another.
Development can be Tricky
Website development isn't always quick and easy. Sometimes it's complicated and requires serious brainpower. No matter how skilled or efficient your website development company might be, delays can happen. Additionally, building a beautiful website doesn't happen overnight. It takes practice, patience, precision, and perseverance. When you get web designing or web development services make sure you ask for an accurate timeline. Chances are that this timeline will prove to be tentative because the editing and reiterations are not counted in the initial development phase. Whatever timeline has been shared with you, please know that it may change if you have a complicated requirement. Development can be tricky and you should be prepared for minor delays.
And there you have it, those were the things that you should expect and bear in mind when seeking web designing services. Just to stay on the safe side, you should also ask your development provider to inform you about any additional charges or taxes that aren't mentioned in the original pricing. Subsequently, you should read reviews and see ratings when opting for website development services as they mentally prepare you for the kind of service you will be getting.
Now let's move on to the second part of our article. This part covers all the important aspects required to build an attractive website. In this section, you will learn what separates a high-traffic, appealing website from a low-traction, boring one. Some of the aspects that are about to be mentioned as straightforward and follow simple logic, while others are more complex and take into consideration several different factors. Without any further delays, let's find out what makes a website attractive.
An imperative list of things that make your website attractive
Before we begin with the list, please know that this is a tentative list and some aspects may vary, depending on the scope and nature of your website development. Subsequently, some of the points shared in this list may overlap and intersect.
It All Starts With a Domain
Much like any business, the start of a good website is reliant on its name. Your domain name serves as the first point of contact for your users. If your domain name isn't attractive, it won't get much traction. Domain names serve as the digital identity for your business. For this reason, you should always pick a memorable website name that will result in easier recall and recognition. As a rule of thumb, stay away from choosing numbers, a hyphen, and longer or difficult site names, as they reduce your likability. Choose an easy-to-spell domain name that can be memorized effortlessly and has a broader meaning. The reason you want to pick a broader and all-encompassing term is that it will help you expand your business in the future. Think of Amazon and how it started as a book-selling site. Amazon is now a marketplace for pretty much everything but if they had selected a name specific to books, they wouldn't have gotten the same success or recognition.
Hosting is Just as Important as the Domain
The next thing you want to focus on is your hosting provider. Hosting providers often offer three different hosting options. These can be defined as Shared hosting (where you share a server with other site owners), Dedicated hosting (where you have a dedicated server), and Virtual private server (Which is a combination of the former two and offers more flexibility). Your hosting requirements will depend on the kind of site you are trying to create. Check for pricing and make sure your hosting provider is easily accessible via chat, call, or email. Additionally, check the kind of server security you are being offered.
Design Matters Just as much as Development
Web designing is just as crucial as web development when it comes to visual appeal. Your site's theme, color scheme, call-to-actions, the images you use, graphics and visuals, utilization of negative space, and the overall look and feel are all crucial for gaining and holding your user's attention. Every design aspect should work in tandem and nothing should look or feel overwhelming. The prettiest sites are the ones that ensure that their web design is just as flawless as their web development.
Accessibility and Functionality
This is perhaps the make or breakpoint. Accessibility and functionality are two things that motivate or demotivate a user to engage with your site. Your site must be fully functional and also easily accessible through different devices. Your site should fit the dimensions of the device that is being used to access it.  Additionally, there shouldn't be any broken pages or pages with long load times as they negatively impact your site's bounce rate.
A Content Management System (CMS) Goes Beyond Content Management
The kind of content you exhibit on your site is also a big deal. Your content management system isn't just a tool for adding content. It is also an important tool for implementing analytics to track and monitor your users. It is a vital tool for formulating a digital marketing strategy. This makes it vital for you to have a CMS that helps you manage and promote your content effectively.
And that's about it. Those are the things that separate a high-performing website from a low-performing one. The next time you seek web development services or web designing services in Saudi Arabia, do bear these important points in mind.
If you lack the time, capabilities, and technologies to build a killer website, then simply get in touch with The Marketing Trendz. As mentioned earlier, TMT is a website development company that provides both website development services and web designing services.
In the past ten years, TMT has empowered countless businesses in the GCC region to get the website of their dreams. From UAE to Qatar to Kuwait to Oman to Bahrain to Turkey, countries in the Arab world rely on TMT for value-adding and revenue-increasing digital services.
Become a part of the TMT family and see the difference this amazing website designing company can make for your business.