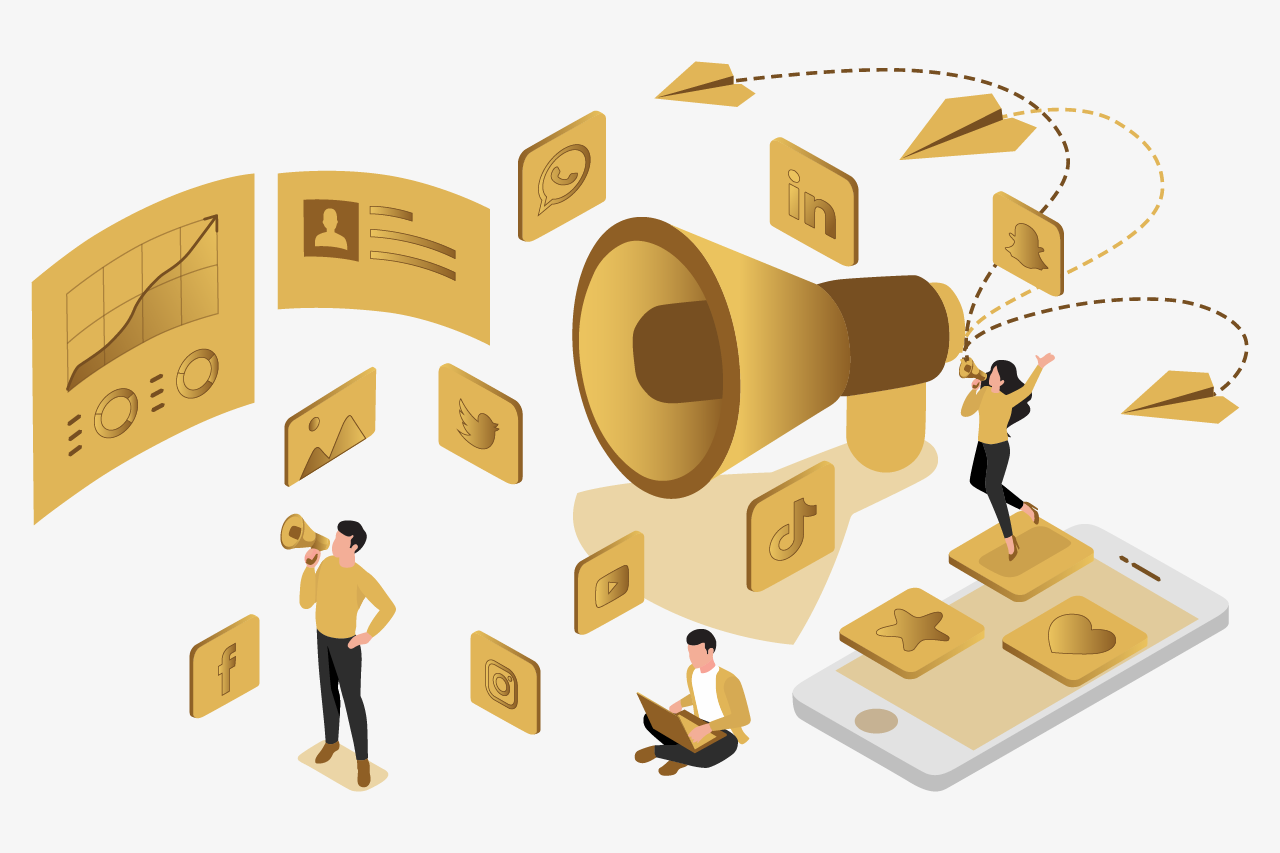 Businesses all over the world are constantly finding ways to increase their clientele while reducing the cost of acquiring new customers. This is a global phenomenon and just like the rest of the world also applies to the GCC region. Countries like Saudi Arabia, UAE, and Kuwait have some of the highest social media usage percentages in the world. This has motivated many businesses within the Middle Eastern market to turn to social media platforms. Social media for business is now a booming market that is only expected to rise year after year.
It is believed that 70% of Arab youth rely on social media to know more about what's happening around the world. This simple fact demonstrates how vital social media optimization has become. What started as a way to connect with people around the globe is now a powerful marketing tool that yields astonishing results. To put things into perspective, let's look at three more facts that show the usability and popularity of social media platforms within the GCC region.
Fact 1 – People from MENA users are among those that spend the most time on social media platforms.
Fact 2 – 75% of users from the Middle East reported that the time they spent on social media platforms increased due to Covid-19 and social distancing.
Fact 3 – Users from Middle Eastern countries have the highest number of social media accounts with 8.4 accounts per person.
All three facts paint a clear picture – social media for business guarantees growth.
However not all social media platforms are built equally and each reaps different benefits. Some companies find more success on Facebook as compared to Twitter, while others find Snapchat to be the perfect fit for them as compared to TikTok. So what is the right social media platform for your business and how should you implement social media optimization for a wider reach? This article will answer both those questions and help you pick out the perfect fit for your social media marketing strategy. However, before we move forward, please bear in mind that social media optimization is a data-driven approach.
Without the right set of data and tools, you will never get the results that you aspire to achieve. This is the reason why you should opt for a reliable social media marketing agency. You require a social media marketing agency like The Marketing Trendz. The Marketing Trendz aka TMT is a KSA-based social media marketing & management company that has offices in Riyadh, Jeddah, and Dammam. They offer the best social media marketing plans and complete optimization of social media. Business owners not in Saudi Arabia and UAE but also in Kuwait, Bahrain, and Qatar have found lasting success due to TMT. The same is the case for business owners in Oman and Turkey. TMT has been working in the MENA region for more than a decade. This has allowed the company to accumulate helpful insights and analytics that are needed for digital success. Try TMTs social media optimization service if a lack of clarity and direction won't stop pestering you.
Now let's get back to our primary topic of discussion – How to choose the right social media platforms!
Here's a step by step guide to help you choose the right social media platforms for optimal optimization of social media:
Step 1 – Understand the nature of your business
The first step would require you to correctly assess the category in which your business falls. How would you define your business? What services/products are you offering? What does your typical customer look like? What is your brand personality? And how do you want to be perceived on social media? All of these questions are important for determining the nature of your business. Visually appealing brands have a better chance on Instagram and Facebook, while B2B businesses should look into LinkedIn marketing. The nature of business sets the tone for your social media success, so always remember to identify the nature of your business.
Step 2 – Define your audience(s)
Who is your ideal customer? What age bracket do they fit in? What platforms are your target audiences using right now? All three of those questions combined with a deeper dive into demographics can help you sort out your target audiences. When choosing social media platforms always remember to reach your customer through the channel they know the best. This is the most basic requirement for the optimization of social media. Everything else is secondary. The popularity of social media platforms can differ from country to country and city to city. Egypt has the 9th largest global Facebook market, while countries like Libya, UAE, and Qatar have the highest Facebook reach in the world. Turkey, Saudi Arabia, and Egypt are amongst the top 20 largest Instagram markets by audiences in the world. UAE and KSA both see a peak in Snapchat usage in the month of Ramadan. All of this just proves how social media usage can differ from country to country.
Step 3 – Conduct a competitor research
What social media platforms are being used by your competitors? And what are the results that they are getting? This is a quick and simple practice that will allow you to see and monitor the success of your competitors. See their marketing campaigns and their social presence to determine what is working out for them. We learn from our mistakes but more so from the mistakes of others. This competitor research will highlight how incredibly true that point is.
Step 4 – Understand how different platforms work
This step is crucial because it will save you both time and resources otherwise spent on budget-burning marketing campaigns. The purpose of social media optimization is to harness the power of social media and give you leverage over your competition. None of this is possible without understanding the core working of each social platform. Every social media platform has a different purpose and social media for business can only become beneficial when this purpose is clearly understood and utilized. While LinkedIn is excellent for corporate activities, Twitter is great for starting conversations on trending topics. Facebook offers an online marketplace and Instagram is more focused on visually appealing content. Do your research well and you'll get one step closer to choosing the right social platform for your business.
Step 5 – Customize your way through the different platforms
As an alternative approach, you can create a presence on all widely used social platforms. However, you should be modifying the communication behavior as per the platform. Don't post the same message on all your social media accounts. Tailor it to best fit all the social media platforms that you are using. This approach might seem tedious but it's worth the hassle. Social media for business can only work when you are willing to take risks and improvise your social media marketing strategy.
Those were the steps you need to take for optimal optimization of social media. A failure to act on any of these steps may result in a loss of effort and revenue. If you have any doubts that you can't pull off social media optimization solely, simply reach out to The Marketing Trendz. The Marketing Trendz will take care of all your social media platforms and form a social media strategy that results in dynamic social media optimization.