If you are a business owner in Saudi Arabia, you must be on TikTok. Period. TikTok is the newest and most effective digital marketing platform in the country. It has taken the region by storm and is now the most popular social media application in Saudi Arabia. TikTok marketing is an excellent way to reach out to potential customers and promote your products or services. The best part about advertising on TikTok is that it is highly effective and affordable. If you are looking for a way to reach a larger audience and promote your business, you should definitely consider advertising on TikTok.
Usage Of TikTok In Saudi Arabia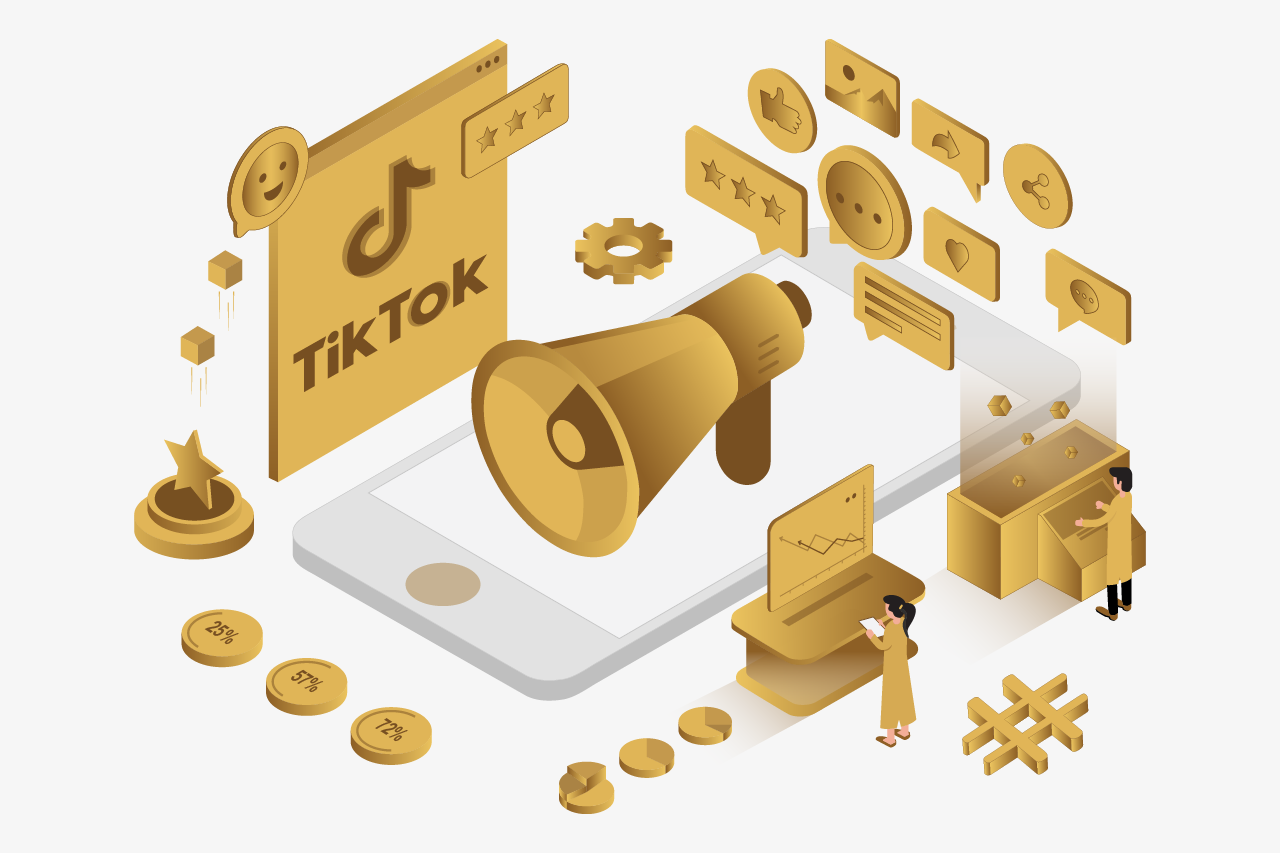 As one of the newest social media platforms on the scene, TikTok has been making waves all over the world. This short-form video-sharing app offers users a unique and engaging way to consume content. And with over 800 million active monthly users, TikTok is quickly becoming a force to be reckoned with. But what is TikTok? And what does it have to do with marketing, anyway?
You might have seen TikTok on your social media feed or in the news and wondered what it is. The TikTok app is a video-sharing platform where users can record and edit short clips. It's huge in Asia and is quickly gaining popularity in the US. And as a marketer, you should start paying attention to it.
TikTok is a one-of-a-kind platform for connecting with a huge and enthusiastic audience. The app is particularly popular with Gen Z users, who are notoriously difficult to reach with traditional marketing methods. So if you're looking for a way to reach a new and younger audience, TikTok is worth considering.
In addition to its huge user base, TikTok is also known for its highly engaged users. TikTok users are typically very active on the app, spending hours watching and creating videos. This makes TikTok for business marketing an ideal platform.
In January 2022, 88 percent of Saudi Arabia's adult population used the famous social video app TikTok, making it the country with the widest reach for the service. We can say that there are a lot of people using TikTok in Saudi Arabia. Next in line was the United Arab Emirates, which tapped into an audience of roughly 81.3%. Approximately 131 million people in the United States use TikTok, roughly half of the country's digital population. That makes TikTok digital marketing a perfect tool for promoting a business.
TikTok Marketing Strategy
TikTok has taken the world by storm, quickly becoming one of the world's most popular social media platforms. TikTok is especially popular among young people, key demographic many businesses are targeting.
If you're looking to reach a Saudi Arabian audience, you need to know how to market on TikTok. TikTok is a relatively new social media platform but has already amassed a huge following. The platform is especially popular in Saudi Arabia, where it has been downloaded over 5 million times. TikTok allows users to create short videos of themselves lip-syncing or dancing to popular songs. The videos are then shared with other users.
Tips for Advertising On TikTok
For those interested in watching videos that are less than 10 minutes long, TikTok has quickly become the app of choice. And for businesses, that means there's a lot of potentials to reach new audiences and promote your brand on TikTok.
So are you looking for new and creative ways to promote your business? If so, you should consider using TikTok. TikTok is a popular social media platform that allows you to create short video clips. You can use TikTok to show off your products, share behind-the-scenes footage of your business, or even tell your brand story.
TikTok is a great way to reach a new audience and promote your business. Here are some suggestions to help you get started:
Use keywords and hashtags to get discovered.
Use attractive visuals and audio to grab attention.
Keep your videos short and attention-grabbing.
Use calls to action to encourage viewers to take action.
Advertising on TikTok can help businesses of all sizes reach a wider audience and achieve their growth goals. TikTok is one of the fastest-growing social media platforms, with over 800 million active users worldwide. And because TikTok is all about short, engaging video content, it's the perfect place to promote your products or services.
There are a few different ways to advertise on TikTok so that you can choose the best approach for your business goals. You can run in-feed video ads, which appear in users' feeds alongside other videos they're watching. You can also run brand takeovers, full-screen ads appearing when users open the app. And you can run hashtag challenges, which are promotional campaigns that encourage users to create and share videos using a specific hashtag.
No matter which option for advertising on Tiktok you choose, it should be perfect. You can take the assistance of a digital marketing firm in Saudi Arabia like The Marketing Trendz (TMT). With the help of experts from TMT, you can start using TikTok to promote your business and reach a large audience.
Essence of TikTok Digital Marketing
As a business, you can't afford to miss out on the opportunity to reach this growing audience via TikTok. But before you start creating TikTok videos, it's important to understand the essence of TikTok digital marketing.
What makes TikTok different from other social media platforms is its focus on short, bite-sized videos that are easy to consume. This means that your marketing videos need to be concise and to the point. You also need to be creative and produce content that is both entertaining and informative.
By understanding the essence of TikTok digital marketing, you can ensure that the widest possible audience sees your videos and that your business is able to reach new heights.
TikTok digital marketing is important. However, it can be a challenge to market the business on TikTok due to the platform's ever-changing algorithm.
But don't despair! There are still ways to market on TikTok effectively. TikTok digital marketing is difficult, but there are ways to make your TikTok marketing strategy successful.
TikTok Marketing Strategy By A Professional Of The Marketing Trendz
Are you looking to break into the Saudi Arabia market? TikTok may be the perfect platform for your business.
Sure, you've heard of TikTok. It's the social media platform where people post short videos of themselves lip-syncing or doing creative dances. But you may not know that TikTok is one of the most popular social media platforms in Saudi Arabia. In fact, it has been reported that TikTok is the most downloaded app in the country.
So why not use TikTok as a way to reach your target market in Saudi Arabia? With TikTok digital marketing, you can create engaging content that will reach a large number of people. Plus, you can use TikTok to create awareness for your brand and drive traffic to your website or online store.
But, the question arises, how can you make the most out of TikTok In Saudi Arabia? The professionals at TMT suggest you make your business profile on TikTok, or you can also pay the famous TikTok stars to promote your brand. Nevertheless, you need a perfect setting to shoot your promotion, and you can make it happen with TMT.
So what are you waiting for? Get started with a perfect Tiktok marketing strategy!
Things to Consider before Opting for TikTok for Business Marketing in Saudi Arabia
As TikTok continues to grow in popularity, more and more businesses are starting to see the potential of using the app for marketing purposes. TikTok offers a unique opportunity to reach a wide audience with creative content, and businesses in Saudi Arabia are starting to take notice.
There are a few key things to keep in mind when using TikTok for business marketing in Saudi Arabia:
It's important to understand the app's demographics. TikTok is most popular with users under the age of 30, so your content should be tailored to this age group.
Keep in mind that TikTok is a global app, so your content should be accessible to a worldwide audience.
Be innovative creative and enjoy producing your own content!
TikTok encourages users to take risks and express themselves creatively. So don't be afraid to take risks!
With these tips, you can have a successful Tiktok for business marketing initiative.
Conclusion
There are a lot of people using Tiktok in Saudi Arabia due to its attractive features. In Saudi Arabia, business owners can't afford to miss out on TikTok. Period. The country's latest and most powerful digital marketing tool is undoubtedly TikTok. It has become the most widely used social networking software in Saudi Arabia and has quickly spread throughout the Middle East. TMT advises creating a company page on TikTok or paying popular TikTok users to endorse your product. However, TMT can help you choose the ideal location for your commercial shot.