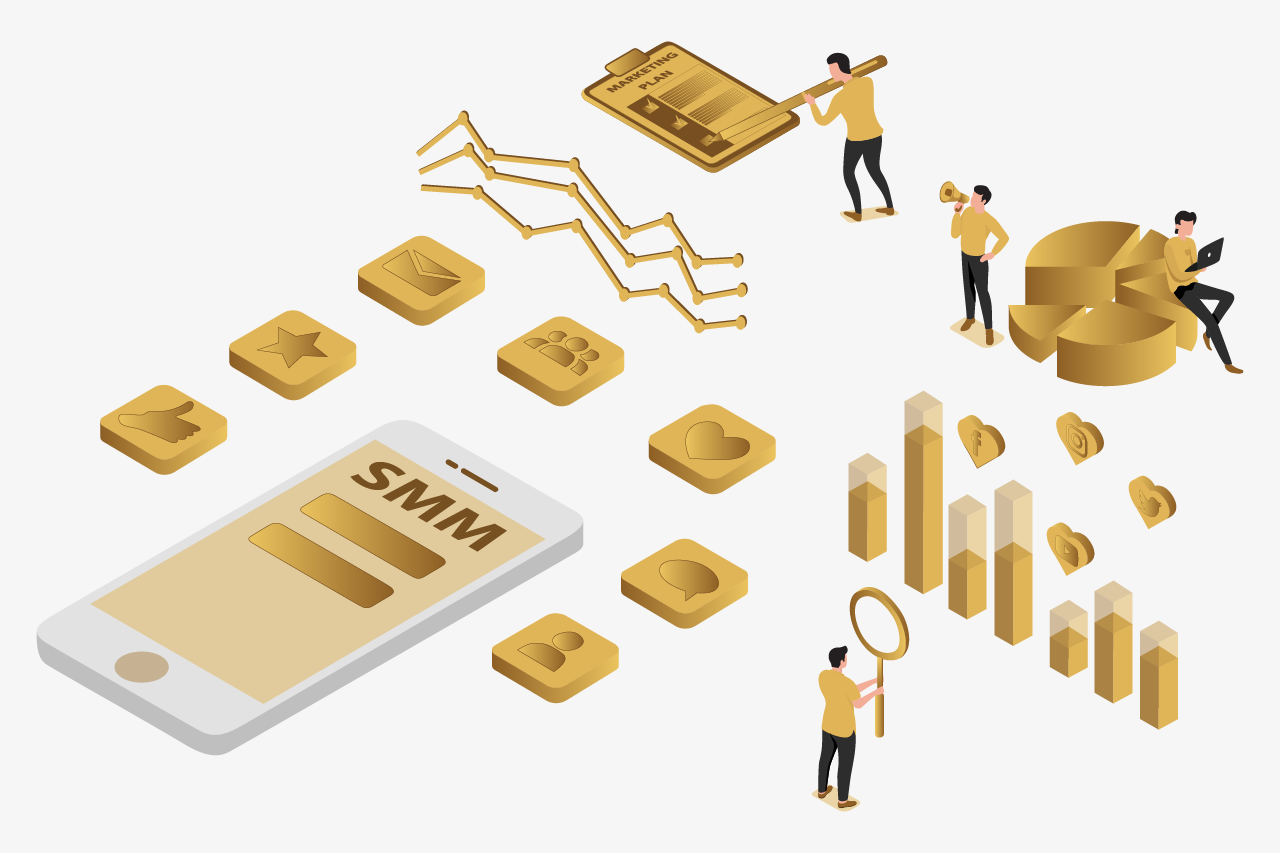 What started as a means of communication is now shaping the way the world conducts business. Social media has grown exponentially over the years and continues to do so even now. It has grown from being a simple medium of staying in touch with your friends and family to a data-driven marketing approach for businesses globally. Brands and organizations are paying more attention to the online hemisphere and making full use of social media marketing to reach their marketing goals effectively and efficiently. This current boost in social media usage is also a result of the ongoing pandemic. Since brands couldn't conduct business in person, they had to come up with solutions that would allow them to stay financially afloat and profitable. This is where they turned towards social media. They harnessed the power of the online world to reach their consumers wherever they might be. Highlighting the global social media usage, Statista reports that TikTok users increased by 38%, Pinterest users increased by 32%, Reddit users increased by 30%, Facebook users increased by 19%, Snapchat users increased by 17%, Instagram users increased by 16%, LinkedIn users increased by 13%, and Twitter users increased by 8% in the past three years. These numbers show not only growth but also the potential that social media holds.
While the global social media users increased exponentially in the past three years, what were the statistics for Saudi Arabia and MENA (The Middle East & North Africa)?
To answer that question, let's quickly uncover and understand a few key findings for the social media users in KSA (Kingdom of Saudi Arabia) and MENA:
Social Media Statistics for KSA and MENA Region
The following is a breakdown of the social media statistics for Saudi Arabia and the MENA region:
MENA region is enamored by social media – The average Middle Eastern person has approximately 8.4 social media accounts at any given time of the year. If we narrow that down to only the UAE, that average becomes 10.5 social media accounts per person – The highest in the world. Additionally, the average user from the MENA region spends 3.5 hours on social media platforms per day. Moreover, Google, Facebook, and YouTube are the three most popular sites in this region. These numbers are a good indicator of both social media penetration and consumption.
Arab youth relies heavily on social media for news – The 2020 Arab Social Media report highlights that 79% of Arab youth rely on social media for staying updated about both local and global events. Social media plays an active role in the lives of Arab youngsters and also shapes their opinions on important issues.
Social media is reshaping consumer behavior in the MENA region – 59% of KSA social media users and 49% of UAE social media users admitted to researching about a brand online. This is big news for all businesses trying to have a better reach in the MENA region.
Newer social media platforms are dominating the market – While Facebook and YouTube enjoy popularity and prominence in the MENA region, newer platforms are now gaining more traction. TikTok dominated the Gulf region in the year 2021. Saudi Arabia, Oman, and Bahrain had the highest TikTok engagement rates amongst all other MENA countries. Snapchat remains the second most popular platform in this region with 67 million unique users. Users in Saudi Arabia spent more time watching content on Snapchat in comparison to traditional TV broadcasts. Subsequently, KSA also has the largest number of Snapchat users amongst all other Gulf countries with 17.9 million users. Turkey, Iraq, and Egypt also have a large number of Snapchat users and they are part of the top 13 largest national markets for Snapchat along with Saudi Arabia. Instagram is no less popular in this region. Instagram enjoys unparalleled growth in this region and the Top 20 largest Instagram markets in the world including Saudi Arabia, Turkey, Egypt, Kuwait, and Bahrain. All of these numbers and metrics show that Middle Eastern social media users have an affinity towards visual-led platforms.
The pandemic has influenced user behavior – This might be not much of a discovery or a finding but the pandemic has redefined the use of social media globally. However, the interesting thing is that the amount of time spent on social media sites is the highest in the Middle East and Africa globally. No other region in the world comes close to these two when it comes to using social media. This key factor can play a pivotal role for businesses looking to expand in KSA and MENA region.
Social media can change, reform, rebuild, and influence public opinions – As more and more users are getting on social sites, it is becoming a favored and in-demand medium for public discourse. As mentioned earlier, 79% of Arab youth rely on social media for important information. This gives influencers, entrepreneurs, public speakers, celebrities, researchers, and even brands the opportunity to change, reform, rebuild, and influence public opinions.
What Can Business Owners in KSA Expect Now?
The aforementioned statistics hold good news for business owners in Saudi Arabia (especially the ones in Riyadh, Jeddah, and Dammam) and all over the MENA region. Higher social media penetrations, easier access to the internet, and the growing number of users on social sites, all facilitate you to give social media marketing a shot. With the right form of social media advertising and marketing, you can reach your consumers at a lightning-fast pace. A great social media marketing strategy isn't just good at reaching your potential consumers; it is also a case study about consumer behavior. This is why many business owners are now searching for a reliable social media agency. They are on the lookout for a social media company that will help them connect with their consumers better.
How to form a killer social media marketing strategy?
To form a social media marketing strategy that stands the test of time, you must first analyze your competition. This is followed by in-depth research about the market you're trying to target (this includes user profiling for better reach). Now you plan on the social media platforms you will use to market your product/service. Ultimately, you design a marketing campaign using all this data.
Alternatively, you can simply get in touch with a creative and robust social media company. If you happen to be a business owner in Riyadh, Jeddah, or Dammam, you've come to the right place. Say hello to the experts at TMT – The Marketing Trendz. TMT is a creative digital marketing and social media agency with more than 10 years of experience. They offer complete online marketing services in Riyadh, Jeddah, and Dammam. Moreover, their years of experience have allowed them to become a trusted social media company not only in Saudi Arabia but all over the MENA region. Let TMT take care of your marketing needs while you sit back and enjoy the returns on your investment. With the brilliant minds at TMT – TheMarketingTrendz working for your brand, you can rest assured that you're getting a social media marketing agency like no other!