Instagram is among the most popular social media platforms, with over a billion active users per month. It's a phenomenal medium for brands to reach their intended clientele. However, it is important to use the platform effectively in order to maximize its potential. Businesses in Saudi Arabia and all over the Middle East should understand the behavior and search pattern of the local audience to boost their following. For that, an Instagram marketing agency can certainly assist. Let's explore the essence of Instagram marketing and discusses some of the top Instagram marketing services and strategies.
Significance Of Instagram Marketing Services in Saudi Arabia & All Over The Middle East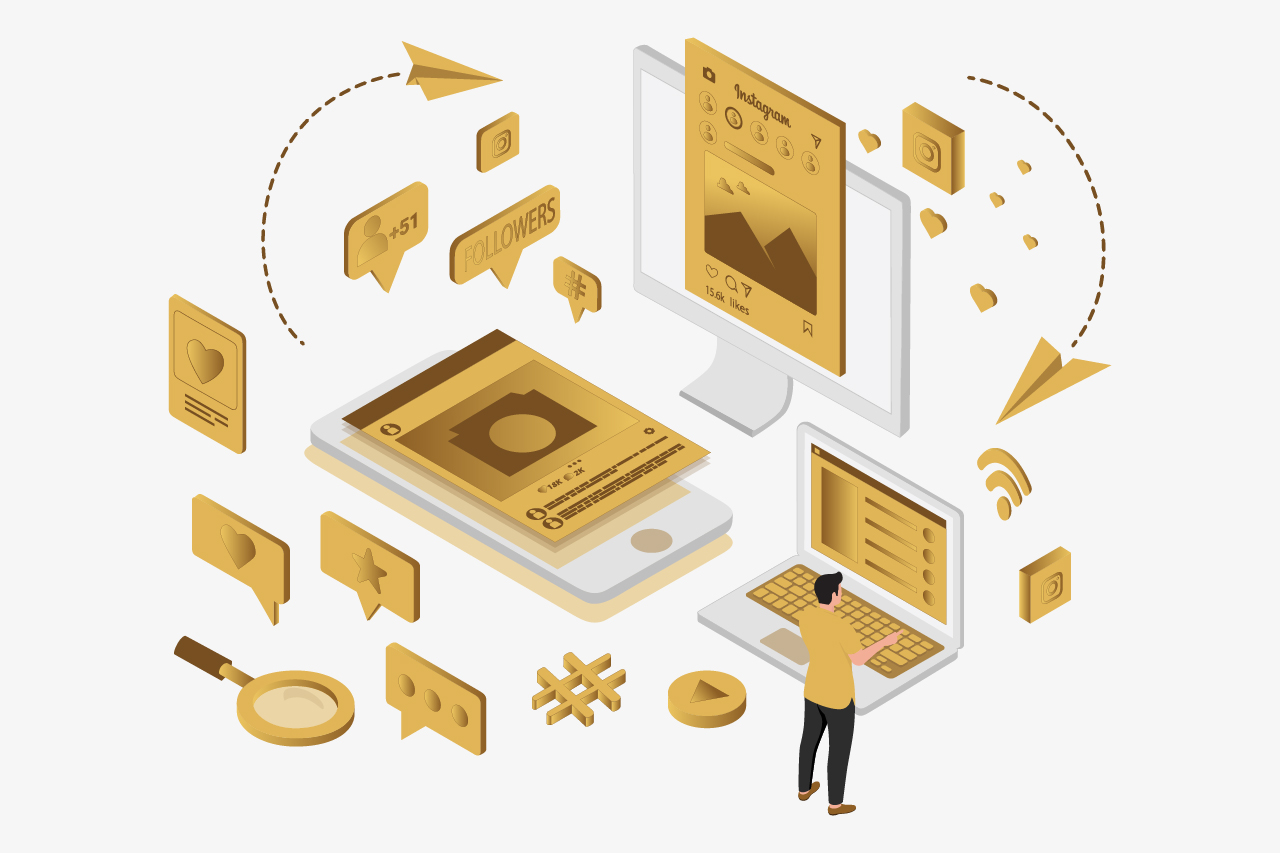 Instagram is one of the world's most popular social media platforms, with over a billion active users. And while it started as a platform for sharing photos and videos, it has since evolved into much more. Today, businesses of all sizes use Instagram to connect with their customers and promote their products and services.
And if you're doing business in Saudi Arabia or the Middle East, you must be on Instagram. Why? Because that's where your customers are. In Saudi Arabia alone, there are over 10 million active Instagram users. That's a huge potential customer base that you can't afford to ignore.
But how do you make the most of Instagram marketing? That's where Instagram marketing services by Instagram marketing agency come in. A good Instagram marketing service can help you create and post high-quality content, engage with your customers, and expand your business.
Top 5 Instagram Marketing Services For Businesses In Saudi Arabia
For good Instagram marketing management, you need proper strategies and services. You might be thinking, what are they? Here are some digital marketing strategies that Instagram marketing agency can use to get the most out of Instagram for your business:
Use Attractive Visuals: One of the best ways to grab attention on Instagram is to use attractive visuals. This could include using high-quality photos and videos, infographics, etc.
Use Relevant Hashtags: Hashtags help businesses reach a wider audience. It is important to use relevant hashtags so that people interested in your content can easily find it.
Use Instagram Stories: It is a great way to increase engagement as it allows businesses to share short videos or images that disappear after 24 hours.
Run contests & Giveaways: running contests and giveaways is a great way to increase engagement and followers on Instagram.
Use Paid Ads: Paid ads can potentially engage with the audience who are not following your page, and with attractive pages, your brand following can be enhanced, which can ultimately lead to an increase in sales.
Instagram Marketing Management By An Instagram Marketing Agency
If you need help with your Instagram marketing, you should definitely consider working with an Instagram marketing agency. At an agency, you'll have access to a team of experts who can help you with everything from refining your strategy to creating and executing campaigns. And, of course, they'll also be able to help you with all the day-to-day management of your Instagram account.
Brand recognition is greatly facilitated by competent Instagram marketing management. Eighty-three percent of members say they learn about new companies and services using this platform. In addition, Instagram users are more likely to trust the products they see there.
Brands with Instagram profiles are seen as more popular and relevant by their followers. Conversely, consumers are less inclined to support businesses absent on Instagram. With the best possible Instagram marketing management, you may increase client interaction more than any other social media network. Instagram photos often receive 23% more likes and comments than Facebook posts, despite Facebook having twice as many users.
Sales may be boosted with Instagram stories, posts, interactions, and communication if you have effective Instagram marketing management services.
Working with an Instagram marketing agency can be a great way to get the most out of your Instagram marketing. So if you're looking for help, contact an agent today.
Audience Growth Opportunities With Instagram Marketing Services
By allowing you to narrow in on a certain demographic, Instagram expands your company's potential customer base. The targeting capabilities in Instagram's advertisements manager make this possible. With them, you can target the most relevant audience per demographic data, hobbies, lifestyle, and more.
Instagram's ad management dashboard even includes sophisticated remarketing features. More qualified Instagram leads can be driven, and leads from other channels may be nudged more efficiently along the sales funnel by combining targeting and retargeting.
You can track the success of your Instagram advertisements with the help of Instagram's analytics system. The number of people contacted, the total amount spent on the campaign, the number of transactions made, the cost per purchase, the conversion rate, and more can all be monitored.
In brief, Instagram advertising boosts your brand's recognition, attracts customers eager to spend money, and keeps them interested in what you offer.
TMT – TheMarketingTrendz: A Perfect Instagram Marketing Agency
TMT – TheMarketingTrendz is the perfect Instagram marketing agency for businesses in the Middle East. We are headquartered in Riyadh and have a team of experienced social media experts who can help you take your Instagram marketing to the next level.
TMT offers a wide range of digital marketing services, including Instagram marketing strategy, content creation, Instagram ads, and more. We have a proven track record of helping businesses grow their online presence and reach their target audiences.
If you're looking for an Instagram marketing agency to help you achieve your goals, contact TMT – TheMarketingTrendz today. We'll be happy to discuss your needs and develop a customized solution for your business.
Let's Sum It Up
As one of the most widely used social networking sites, Instagram has over a billion monthly users. Brands may effectively communicate with their targeted consumers using this remarkable channel. However, to fully realize the platform's potential, it is necessary to use it well. To grow their customer base, businesses in Saudi Arabia and the rest of the Middle East must adapt to local consumers' preferences and search habits. A professional Instagram marketing service can help with that. You should consider hiring an Instagram marketing firm if you need assistance with your Instagram marketing. If you work with an agency, you'll have access to a group of specialists that can assist you in developing and implementing your plan and any related campaigns. Plus, they can assist you with the routine update of your Instagram profile. TMT – TheMarketingTrendz is the ultimate Instagram marketing firm for businesses in the Middle East. Located in Riyadh, TMT – TheMarketingTrendz is home to a group of seasoned social media specialists that can assist you in reaching the next level of success.